Once in a while, there is an opportunity to actually design and create a one-of-its-kind knitted wonder.
Something which fires up my imagination and the skill of the knitter.Something which is in sync with the person who wanted it , something which will be cherished across generations, and yes, carry a few stories with it.
Sharing the process, the ups and downs, the pictures ( with dogs and more)…that's part of completing the project and sending it to the recipient.
This story began a few months ago, when this idea of a colourful central area surrounded by neutral beige, was thrown around between two creative minds.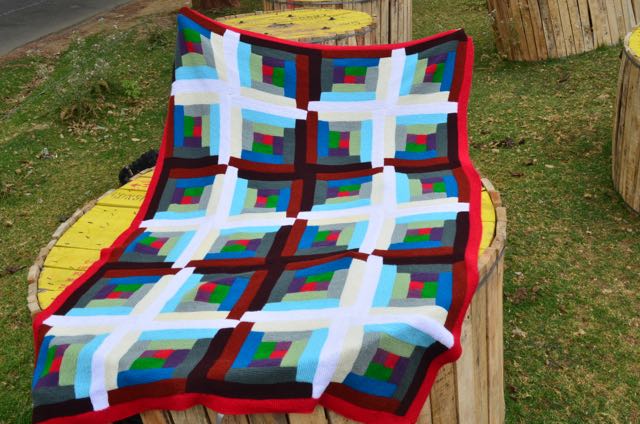 The knitters have made some amazing bedspreads, but its always been lots of colour, lots of vibes, lots of action. My personal favourite has been the log-cabin motif from quilted blankets, and converting the design to knitting, has been perfected from this talented duo.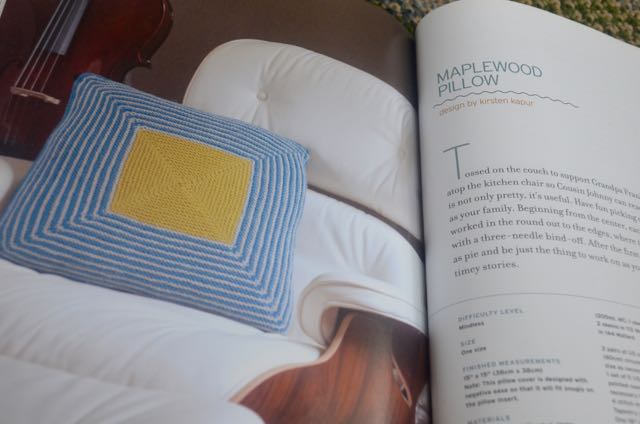 After pursuing the knitting books stuffed in the corner, it was this pattern which inspired me. A smart yet simple bit of knitting, which could be taught to a knitter, emerged from the pages of my current favourite knitting book.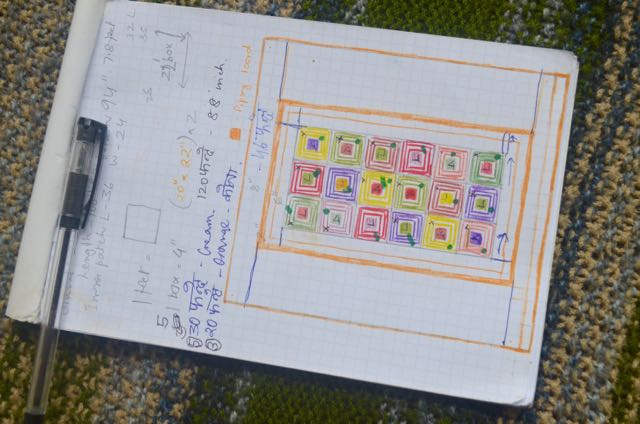 Figuring out the colours and the measurements took all the hours of a long summer evening, but without calculations and gauge, a huge project like this, can never happen.
Niru, one of our best knitters, was assigned this project. She is a stickler for detail and perfection, and there are times when she has driven me to tears with her questions…should the yarn be in front/back ; should she knit with 4 mm all over, or use 5mm for borders; should the blocks be joined right away or later;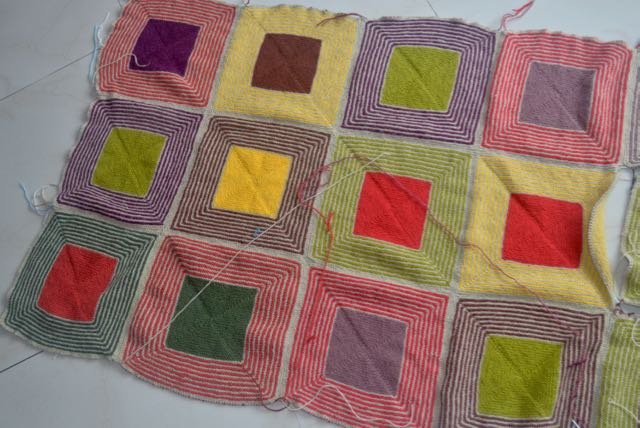 The knitting and the questions took 6 weeks. Niru and me got ourselves a Wednesday morning routine, when she would dump the entire knitting on the clean floor, and we would arrange the blocks, check the joining seams, cheer each other and plan the next stage. Knitting marathons, like this, need a lot of cheering and clapping..and we had Mili and Hema as the cheerleaders.
The blocks have been joined by using the 3 needle bind off technique, the sands of time have been knitted in garter stitch, and finally, a bright orange 3-stitch-I-cord to complete the edges.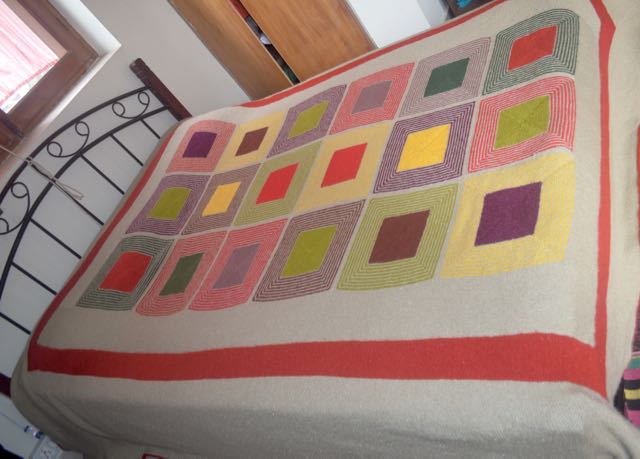 The bedspread, fit for a king sized bed, weighs just 3.7 kgs, and has been washed, blocked and is now ready to leave for its new home.
The knitters, thrilled with the end product, are badgering me to begin a new line of throws, using these multicoloured blocks. But then, these footprints are so unique to the lady who wanted them, this idea of beige sands is so integral to her minimalistic outlook to life..I will let this be a unique piece.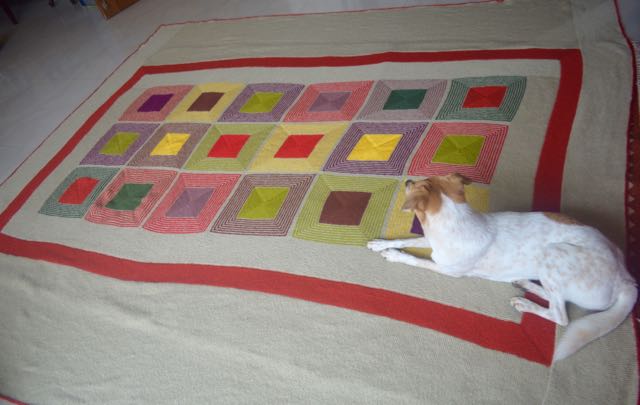 Unless of course, after reading this, you would like a unique creation for your home? Don't hesitate…get in touch and bring an heirloom home!