26th September– and I am going on vacation ..
This time, there is no Pepper to haul into the front seat, cuddle and pat that enquiring, perky face while driving the 3 odd kms to Hema's house.
Biskit would always guess that I am going out…the bags being packed, the sudden avalanche of activity in the early hours of the morning (instead of the usual balcony routine of sipping tea and cuddling their furry heads), was enough to get her warning bells ringing.
Mili, with some deep age-old instinct, guessed that something was up. My distracted air while dumping buckets of water on the plants, whooshing out the small pots onto the common terrace, and of course, the big bags on the bed, strewn with clothes ( to be folded and packed), knitwear ( to be delivered) and charging cords  and knitting projects.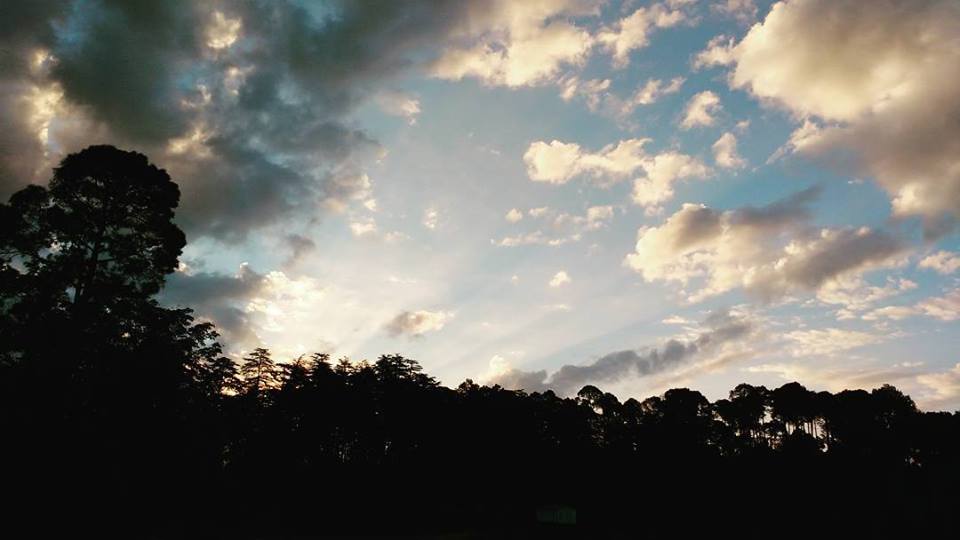 Leaving home is always a challenge. Just to make it even more difficult, there will be a lovely sunrise with the forest trees making a filigree frame for the rising sun. There were orange clouds too, just to make it a little more gorgeous. Bruni and Sher Singh, the two guard dogs had to be extra loving with their adoring licks and energetic tails. 
I have Hema to take care of the house and dogs, and does a good job of shooing me out. I have a punctual cab driver who parks himself outside, a good hour before departure so that there are no missed heartbeats and handwringing. I have support staff, who will water plants, collect Amazon parcels, dust the car and wave me off with a cheerful bye-bye.
What I still have to find, is a way to figure out what to pack for knitting. There is this feeling of being able to carve out free time from those already-planned-and-plotted-till-the-last-minute-24 hours.
Meeting friends and family, bank issues, taking Baba for his errands, catching up with old neighbours…everything has been planned, and I still believe that a trip can only mean knitting—lots of knitting.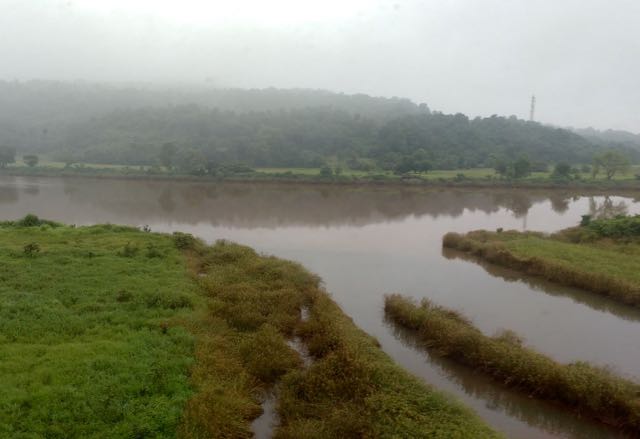 This vacation is going to have knitting time…but a steamy sea-side resort in the Southern peninsula would make the yarn turn to twine. Besides seashores are for walks and good friends are for meaningful conversations.
Last night, my knitting anxiety kept me tossing and turning in bed. I had two WIPs which could come along….the old knitted squares blanket project, which would be mindless knitting, but there would be many a yarn ball to be taken. Besides, it is now a large piece of knitting—read heavy and hard to pack !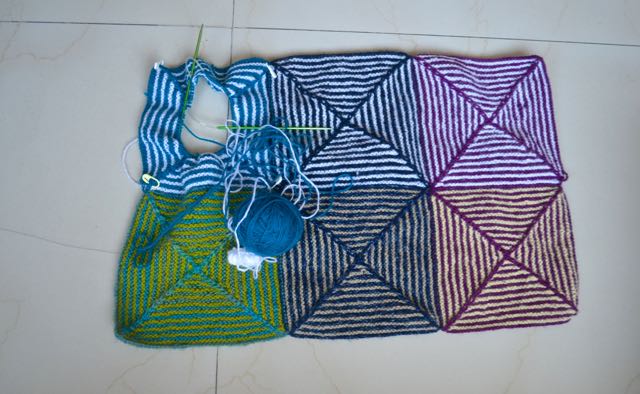 Our knitting group has begun its first KAL…and I have cast on an ambitious ripple blanket on my knitting needles. The ripples would be in different colours, and I plan to make a stylised landscape with a combination of variegated and plain yarn. I had ripped out two full pattern rows, just because the last stitch count was 2 or 5, instead of 4.  No, this pattern would make me miss the juicy bits of conversation and make me silence others while I would count and recount those pattern stitches.
It had to be a small and easy project…mindless, but fun..and it had to emerge from the stash.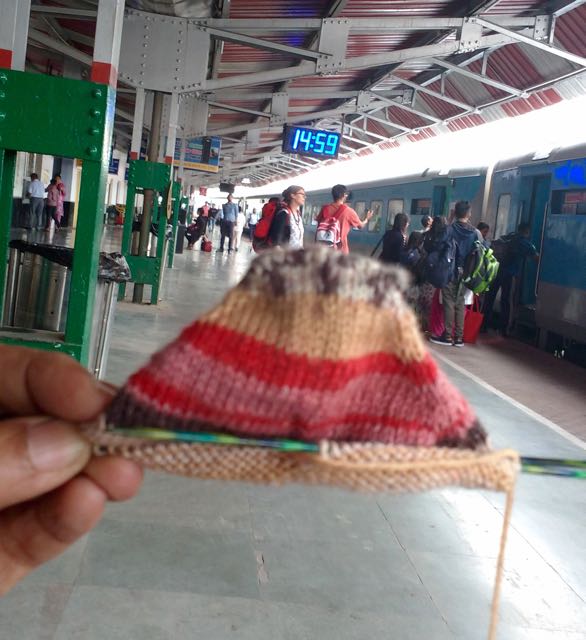 Here is my final choice. I have left all that lovely yarn at home, and sallied forth into the big wide world with 5 wooden DPNs and two cakes of yarn, weighing exactly 52 gms each.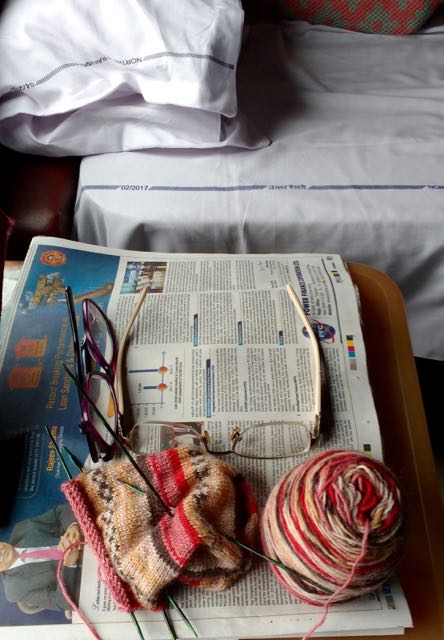 A pair of toe up socks will be made while I lounge in comfortable trains, softly furnished resorts and everything else in between.
A fortnight with just one project?!  To calm my querulous mind, I have thrown in another ball of sock-yarn..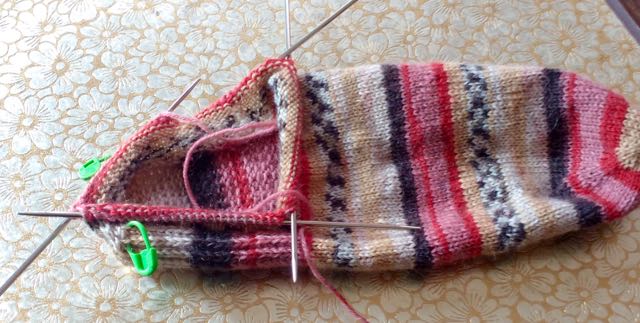 At the penultimate day of my vacation, I can see that friends and fun has taken precedence over clicking needles…I would not like to have it any other way!!