A new month, an old challenge, a new attempt at daily sharing, old fears about slacking and falling on the way….Lets just get started, shall we?!
Joanne Hawker started this Instagram challenge to make a platform for makers of all craft, art, poetry and more. A chance to challenge one's inertia and put yourself out there, where others can see what exactly is happening at your little corner.
DAY ONE..FAVOURITE TO MAKE
A Tough One to Decide.
Garter stitch was a favourite for a long time. EZ and her Baby Surprise Jacket, Overblouse, Socks (available for sale on our website) and our all time favourite, The Triangular Shawl, had been the favourite for all the knitters. It was easy, it didn't have curled edges, it looked good on both sides and garter stripes are so good for the soul!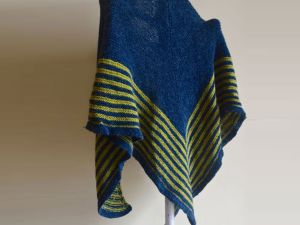 There was that long love-affair with cables too. I still love knitting cables, and I continue to get inspired by this website and by this book. I do have a couple of lovely cabled sweaters in my personal collection and there are going to be some more  in the future. Knitting cables is addictive, especially when one has figured out the charts and what the symbols mean. The knitters are not too delighted by the actual knitting process, but watch them preening themselves, when the completed garment gets them many a compliment!
This year, the favourite is definitely colour-work knitting.  For me, that's FairIsle knitting. I have yet to tackle Intarsia. I love the process of choosing a cross stitch like pattern, selecting colours which pop and/or merge and then, the actual knitting with two yarns in two hands, being knitted with two different techniques.  Ever since I have moved to the mountains, I have knitted one colour-work sweater for my wardrobe, every season…and I love each sweater dearly.
The knitters have been doing slipstitch colour-work on cowls and cushion covers. Colour plays a very strong part in our collection of neck warmers and other accessories, but there is a different charm in Fair Isle knitting. This summer, the knitters are taking the plunge into colour-work yokes, and there is going to be a lot of teaching and learning. I will be teaching them the fundamentals of dominant shades and contrast and keeping which yarn in which hand. I will learn to mix and match shades, keep my cool when the knitting looks wrinkled and ugly, and then break into a satisfied smile when blocking happens!