#Marchmeetthemaker challenge continues …here are ten random facts about where I live.
This maker lives in Ranikhet, a small town in the Himalayan foothills of Kumaon, Uttarakhand. The soft gentle hill slopes are covered with pine trees and terraced fields, and little villages cling to the incline. Roads and electricity connections have been the focus of development here, and the changes are visible, especially at night. 
From the quiet balcony overlooking the forest, one can see shiny-diamond stars  in the sky above, and shimmering slopes of new settlements sliding down to the road, in the hills below. New commerce replaces old farming habits, thanks to monkeys and wild boars ravaging the fields and gardens. The hills have been swept by satellite TV dishes, Internet connectivity and modern vocational college courses, giving youngsters fresh ideas and zing. Gelled and quirky haircuts, jeggings and designer sweaters, bikes and mobile phones–they have been embraced and adopted quickly.
Today is Holi, the advent of spring and warmth and colour in the hills. I can hear enthusiastic songs and drums and laughter floating up the hill slopes from villages down below. Its a huge festival here, but no one, ever, smears colour on me without asking first..respect reigns in this Devbhoomi region of the mountains. 
Ranikhet is a cantonment town, home to the brave Kumaon regiments of the Indian Army. It is clean and orderly, with freshly painted culverts lining the narrow roads, trees and gardens aplenty, and lots of smart men striding around in uniform, or training for marathons and archery. Fresh gangly recruits from the entire Kumaon region are turned into smart, disciplined army men in front of our eyes.
The old cantonment area and the new second home/holiday villa area are demarcated by the Sadar Bazaar…a one km road which slopes down from the civil bus station to the state transport station. The bazaar has remained almost untouched by the passing years. 3 shops for wool, 12 grocery shops, 8 jewellers, 14 cloth merchants —you get the picture?! I can buy whatever I need to live a simple, comfortable life. For everything else, there is Amazon.
I know exactly where to buy a crisp jalebi/ freshly fried samosa/ green tea softy ice-cream/holi gujiyas/momos and finally, after gliding past the entire bazaar, stop for the best aloo-tikki ever. Excellent bacon and cold cuts were sold, along with penne pasta and mayonnaise bottles, in the Hari-Mishtaan store. Scores of raised eyebrows and "huh?!s" have finally changed the name to a more appropriate one.
The Mall Road of Ranikhet is a green forest with winding roads and colonial bungalows placed deep inside big estates. Oak trees, eucalyptus giants, rhododendrons, junipers and other trees are festooned with creepers and vines. These days, the roads are red-carpeted by fallen rhododendron flowers. No modern malls or houses can be found, but one can have a nice chat with the tailor, dry-cleaner, vegetable vendor and the ice-cream vendor.  For anything else, there is Sadar Bazaar.
The golf course is for golfers, marathon trainings, tourist selfies, picnics and my daily walk. The monsoons turn it into a gorgeous green bowl of land edged with pine trees and the Himalayan peaks. Every tourist season, at least one befuddled car will slow down next to the dogs and me, pull out a tourist pamphlet and hold up that green picture of the golf course against the summer brown slopes, and ask, "where is this green golf course?!"
The monsoons are magical and the winters are wonderful… No explanations and descriptions can do justice.
Knitting happens when friends meet for tea, when long winter evenings float past softly, when cattle are taken to graze on forest slopes, when women need to sit and soak the sun and confide to each other, when enterprising organisations set up  knitting groups for economic progress.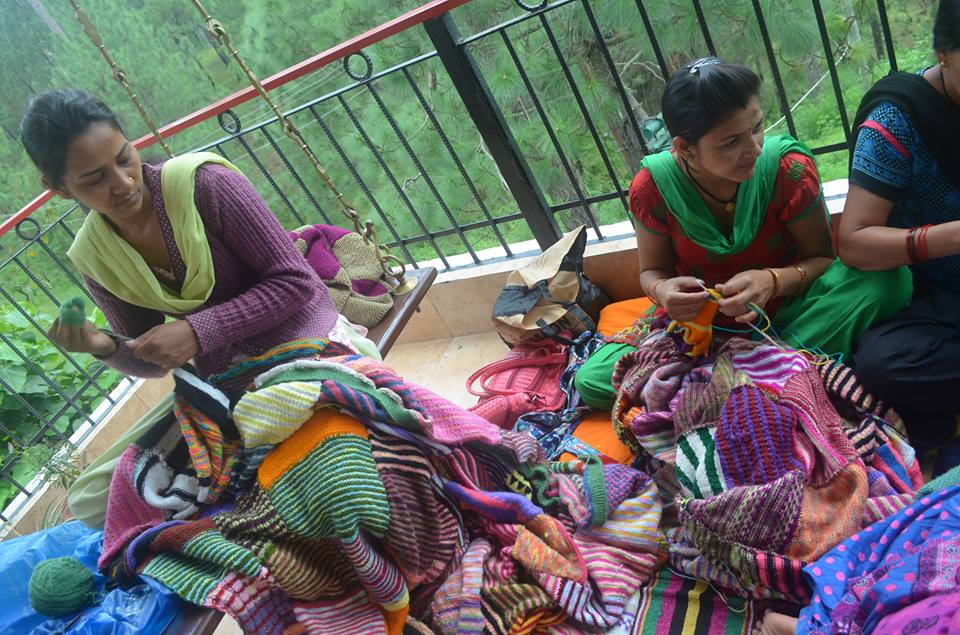 And lots of knitting happens in my home.