These socks…
Cast the first sock with this soft variegated yarn from Norway. I love friends who remember my fascination with self striping yarn, and indulge me regularly.
The socks were to be my Delhi travel project, while driving down with a friend and her dog. She picked me up (and my knitting) early dawn, and we cruised down the mountain roads, watching the sky turn rose and blue, pointing out our favourite ridges and valleys to each other, listening to a local radio station spewing out melodramatic bhajans. Sadie the dog stood enjoying the breeze, and I sat enjoying the knitting.
The mountain road ended, and I took the wheel for the 8 long hours of driving down to the city. The sock watched me driving in the highway mode—fifth gear, country music, air-conditioning and relentless overtaking of crawling trucks. It was a good drive, and we slipped easily into the capital with  its heat and crowds and broad roads.
While knitting and listening to my 91year old Baba, the plan to have a family get-together happened…cousins, nieces, siblings—everyone from the paternal side of the family was invited. Knitting continued, between requesting neighbours for big cooking utensils, driving to those amazing supermarkets where EVERYTHING seems to be stocked, watching Divan Singh slice and chop veggies into fine slivers, and Baba arranging the beer and wine bottles.
It was a wonderful Sunday family lunch which ended when a huge storm covered Delhi at tea-time.I picked up my knitting, drove through rain and sleet and wind to reach this lovely glass fronted hotel, where we college friends were meeting up for dinner. The knitting continued on the table, while we chatted, shared life stories, and dinner took 5 memorable hours.
The last bit of the first sock was done over lunch at the Gymkhana club, while catching up with my best friend in school. Relationships which cross the 45 year mark, are very very precious and full of content. We settled down with tea ( and the knitting) in the lounge and continued with our stories and talk, only to be interrupted by an intrigued gentleman who kept peering at me knitting with 5 sock needles, and wanting to know how I did it. Delight was wiped away swiftly, when the intrigued gentleman sat down (uninvited), dug into his food ( again, uninvited) and launched into a monologue about what a wonderful doctor he would have been, if only he had a stethoscope around his neck!!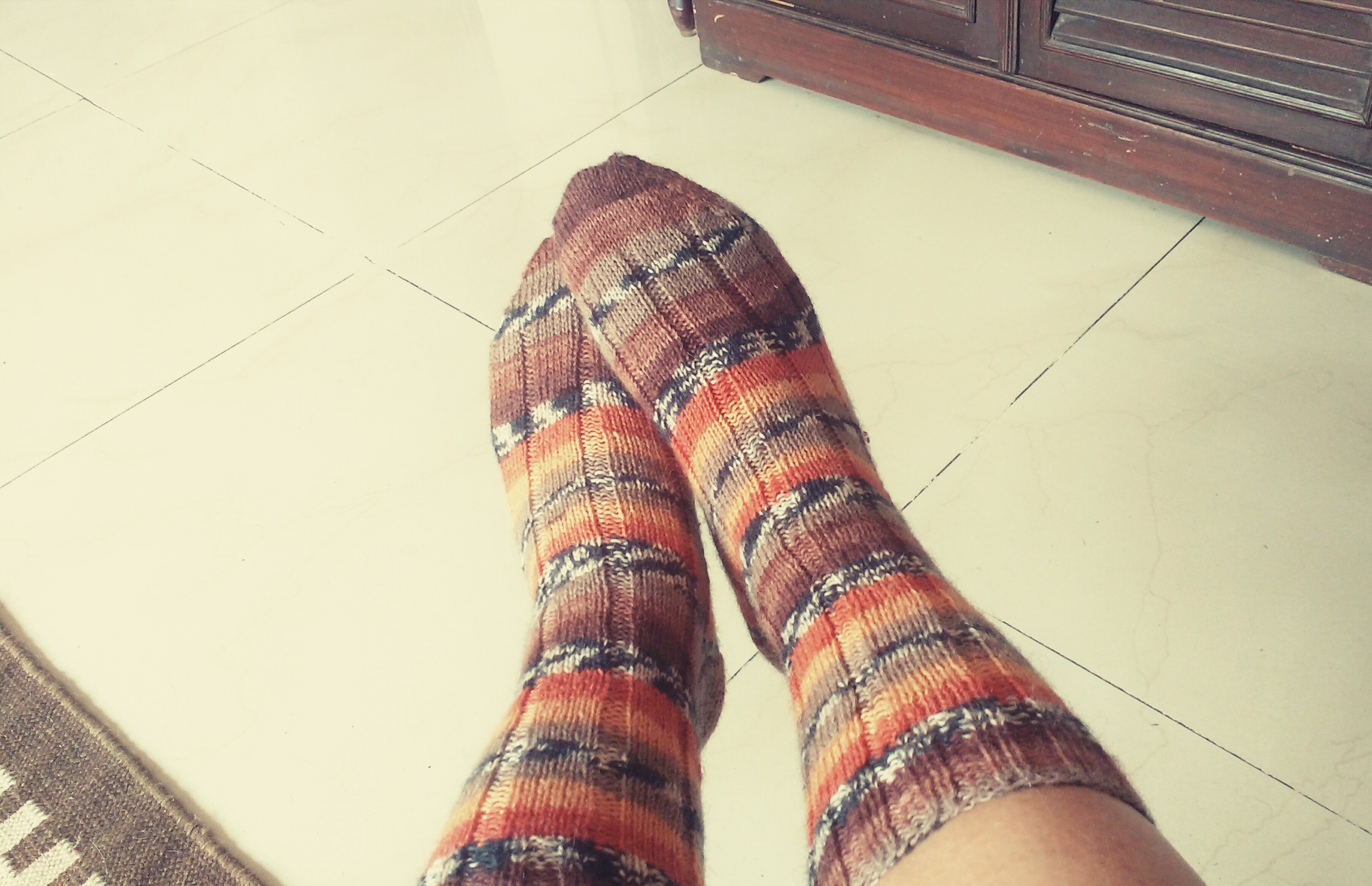 Second sock cast on in the train returning to Ranikhet. Lady beside me spent her 6 hours checking mobile videos, the rapid progress on the sock, and the large gang of children going for a summer camp. The young ones were full of zing and dumb charades. Just two hours on the train and I kept aside the knitting and plunged into playing dumb charades till we reached Haldwani..
Knitted through the drive until home…knitted while I settled down to 4 delighted dogs who just couldn't leave me alone…knitted and walked through the forest and finally, completed both of them while listening to the fury of a summer thunderstorm.
Fast forward to the future, when I will wear the socks and recall driving down darling doggies, family feasts, friends and laughter, intrigued old men, dumb charades and summer thunderstorms..
Knitting socks can never be a mundane activity for me!