Its a truth universally acknowledged , that beloved dogs leave their adoring humans and trot across the rainbow bridge to become memories. The humans deal with their loss by talking and sharing, by vowing never to keep another mutt capable of fracturing their heart, by getting another dog to remind them that life goes on, by embroidering pictures or keeping them as profile pictures on social media.
The last two years had given me opportunities galore to figure out the method which works best for me.  From March 2016, when beloved Biskit moved on, to loosing Luchi in a freak accident in August 2016, and finally watching Pepper move on last September , there have been days when I could feel the dogs running beside me, nights when I would dream about spaniel ears and dopey eyes, and grief which seemed to abate only after sharing here. Condolences, comforting words, counsel, caring support– all this and more has come our way, after writing my heart out.
So today, when beloved spaniel Gypsy has vanished like a soap bubble bursting in the breeze, sleep will come only after this ritual of writing and sharing is done.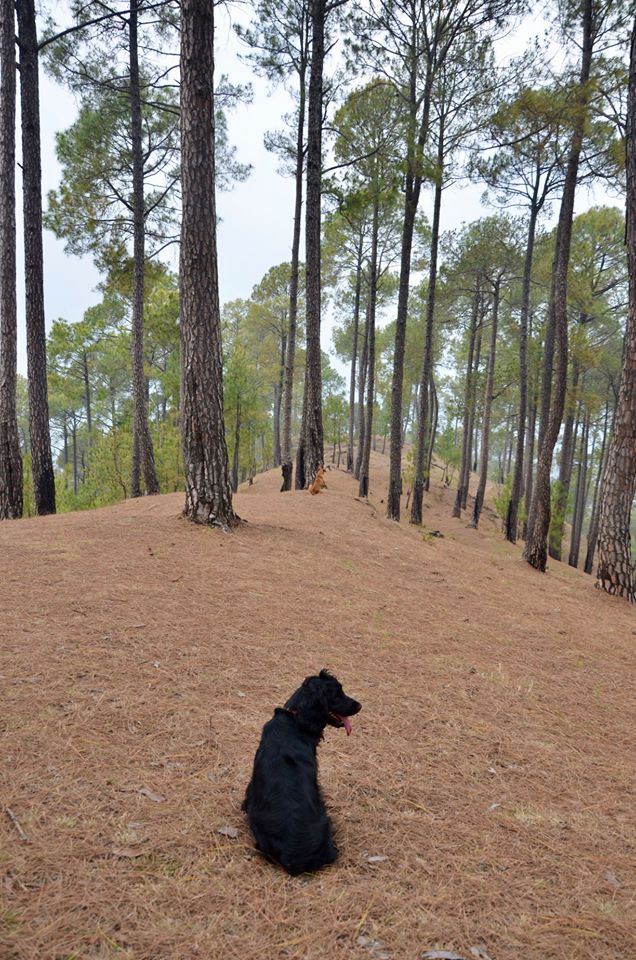 A black beauty with the shiniest coat possible, a black bazooka with no idea of direction or place when chasing monkeys or birds,  it was hard to click a picture of this darling dog who was the first adult dog to join the family. We had nurtured and trained puppies, but Gypsy was a gift to help me move past the loss of Pepper.  And as luck would have it, she seemed to have every trait which made Pepper so special.
She came to us with boundless energy for walks, and endless need for loving. I just had to walk past her, and she would stretch out her paws on my legs and demand cuddling. In her ten months with us, she tried her best to dislocate my arm ( I took to walking in the forest, to save my limbs), and she did her utmost to lick out every wrinkle on my face.It was such a joy to have her at home, to watch the two dogs play and pull each other across the room, to laugh at her habit of walking away with my shoes.Mornings were all about tummy scratches, long licking sessions and prancing with my shoes or socks in her mouth. She ate quickly, she loved car rides, she liked to scare people with playful barking, and she lived to chase birds and monkeys.
And today, Gypsy died while doing what she loved most–chasing monkeys. She had just returned from another beloved pastime– driving around in the car, while balancing two paws on the window and greedily tasting the air rushing past her. I  just had to pick up the keys and she would be at the door, waiting to jump into the car. It was such a joy to see her pure delight and her zingy way of living life…and it all ceased in a mini-second, when she flew in front of a moving tire.
No sounds, no pain, no yelping, no Gypsy.
She romped and roamed through the flat and through my mind and heart. She took all the loving and cuddling and adoring she needed for this lifetime, and moved on.
The hill folks have a beautiful phrase which puts it all in context, and which soothes the grieving heart, "Jab tak daana paani ka hisaab hai, tab tak jeena hai" ( Life is there only till when one's quota of grain and water has not run out).
And while I pick up pieces of myself , while I try not to think too much about the thicket of oak trees which will be growing over the graves of Pepper and Gypsy, I also try to remind myself that there must be some Divine calculation which sends these beloved dogs who live a short wonderful life and who leave long wonderful memories.
Another day dawns… Its time for the knitters to arrive… time to reach out to a dear friend who's watched her mother move on, to wish another friend on her birthday, to eat and walk and knit and live.
Time to delve into my mind, fish out her memories and feel her snorting, panting, loving soul around me. Till we meet again, my dear Gypsy, roam free and happy.