Gradients of colour can either form pools of colour, irregular colour stripes, or even a proper pattern, as in sock yarns.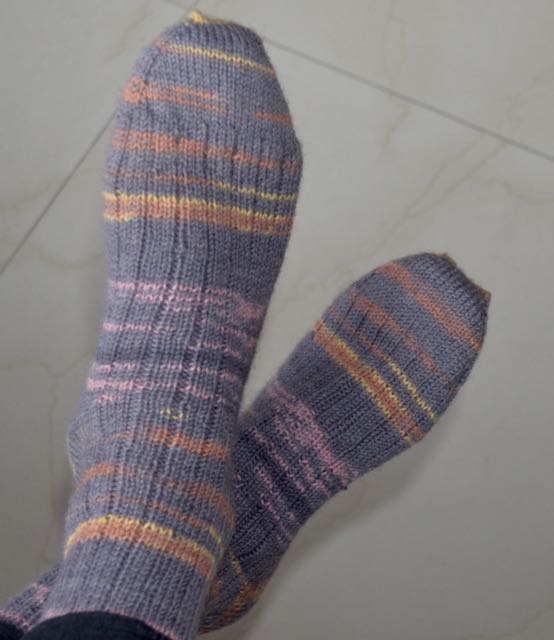 Stocking stitch knitting becomes exciting when one is waiting to see what the patterns are going to be like..childish thrill, but exciting nevertheless. With sock yarn, one has to just begin knitting and watch the colours unfold and the pattern evolve. Its as simple as that.
The challenge comes when one takes on larger projects with bulkier variegated yarn. Pooling of colours can give a rather tacky appearance with blobs of colour at inappropriate parts of the sweater. Moreover, there can be a machine-made look, which defeats the purpose of hand knitting.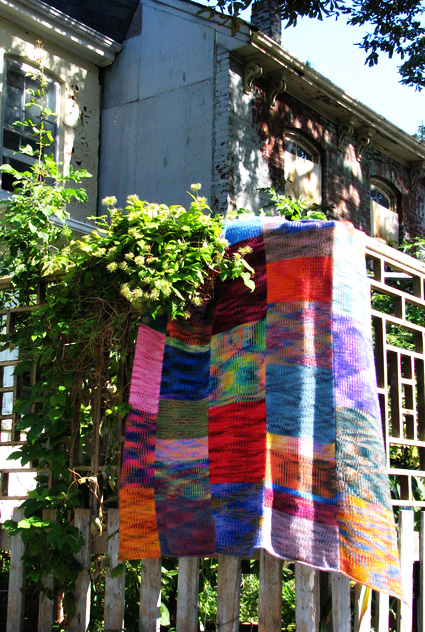 Years ago, knitty.com published this article on finding the sweet-spot of the yarn, by measuring and figuring out the frequency of the colour changes, and then, knitting exactly with those number of stitches, and making this amazing blanket. I have read this article many a time, but still have to try out this method.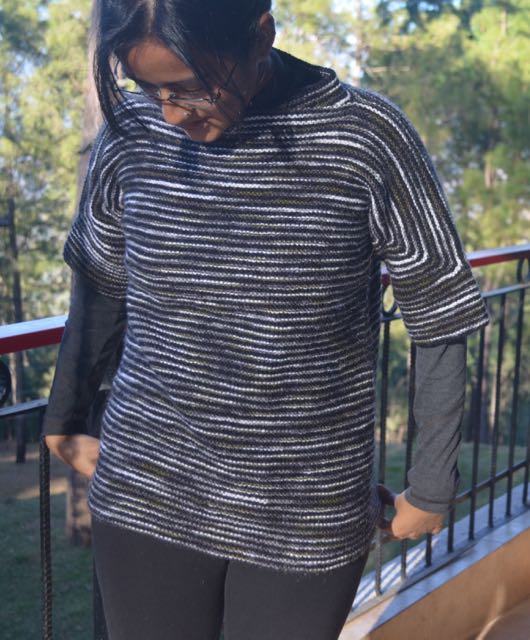 My favourite option is combing a monochrome yarn with a variegated yarn in stripes. This breaks up the colour pooling, and can give the garment a unique look.
Selecting a single shade from the hues, and using it to knit a stranded work yoke on the pullover—one of my favourite methods of enjoying colour. In this, one needs to remember to ALWAYS keep the contrast yarn below the multicoloured yarn, so that it stands out. An excellent guide has been published here.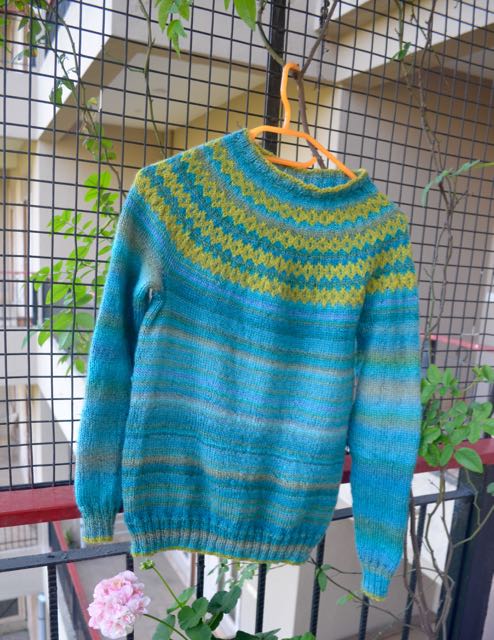 Currently, I am knitting with a new yarn which has long colour changes. Crypto, available online here, is available in 100 gm balls and is a single ply, soft feel yarn. I am combining two different shades in shades of blue, to knit a pullover with 10" of ease.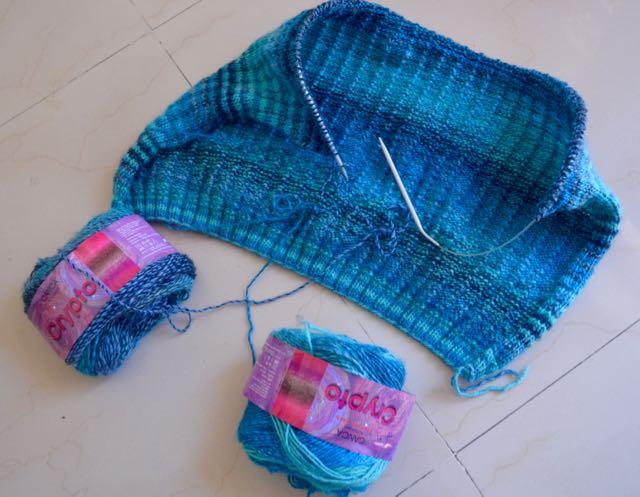 Learnings from this project? plenty, actually!
2 row stripes look staid, when seen from the knit side. But the purl side is another matter altogether. The purl bumps break up the gradients, and I like the effect of diffuse colour.
Adding a very simple pattern,( in this case its *purl 3, knit 1 through back-loop* on the right side, and knit all stitches on the wrong side), gives the fabric a desirable texture and drape. One can try moss stitch or seed stitch too.  A complicated pattern, cables,lace or even textural designs, will detract the eye from the yarn shading, or even worse, the pattern will vanish in the colour changes.
Today morning, when I spread out this knitting project for the knitters to have a look, their reaction has got me frazzled…" Didi, is this a tent? or a sweater?  Is it just for ONE person?!".
Now, I am knitting and wondering…is this going to be another knit-and-rip-project?
Only time and knitting will tell the truth!  Watch this space..