Garter stitch, on straight needles, means miles and miles of knitting one stitch. To break the monotony, different methods of knitting are tried–Continental, American, German,Portugese and then some Indian!
Garter stitch knitting is good for watching movies, serial binging, and reading. It makes for good conversation at parties with unknown friends of friends and it makes driving miles fly past.
April was all about garter stitch ruling the roost. Yes, I have completed one project, while the other one continues slowly and surely.
I present the completed Color Affection Shawl! knitted entirely with garter stitch, in three lovely shades from Miss Babs yarn and presented to me by a dear friend…Knitted at home, in parties, in cabs and trains, during walks and talks, and everywhere else in between! It was a relatively easy project. The only challenge was getting the side increases to look good and regular. Picking up and increasing a stitch, as advised in the pattern, makes a rather tight border, so I just looped the additional stitch every time.
While stretching the shawl edges before blocking, I pulled hard and long and SNAP!!…a stitch broke and there was this avalanche of unwinding in the border. Horrified at myself, and shocked at the speed with which stitches were unravelling, I caught them with some markers, waited for the shawl to dry and did some imaginative darning to hide the chaos point.
I love this shawl, and I love the fact that its going to be around my daughter's shoulders while she works in freezing AC conference rooms, travels in freezing aircrafts, watches TV in freezing AC guest rooms…hey, a knitter mom can dream, can't she?!! So what if the girls live in the hot plains of the Indian subcontinent and their mother lives in cold climes and knits away for hours and hours!
And that brings me to the rest of the month when I was not knitting the Color Affection Shawl…I was knitting another garter project! This bedcover project continues in fits and starts and circles and confusion. Saving grace? …it continues to grow, one small square at a time.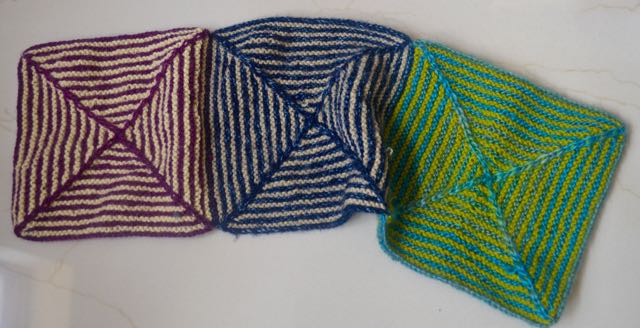 Its the project which reminds me about that maxim in life, "Enjoy the journey, don't think about the destination…enjoy the toil and labour, don't think about the fruit of all that labour."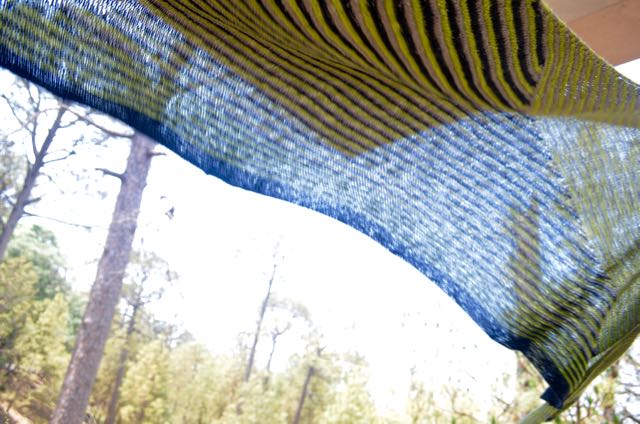 And so, my dear readers, lets continue toiling and travelling and knitting and living!!