This summer had seen the beginning of The Ranikhet Knitters Group..a motley group of knitters, who would meet every month, share and show their knitting projects, talk about knitting, lunch together ( not on knitwear), and stay in touch via WhatsApp.
There were serious knitters who were into Ravelry, pattern books, circular needle sets and yardage of different yarns. We had knitters who had just learnt the two basic stitches, and believed that it would take a lifetime to knit a sweater or shawl…forget about socks, blankets and other complicated items. And then, there were the absolute newcomers to the craft.
One such newcomer,N, a newly wed dentist accompanying her Army husband on their first posting together, came for our meeting with her neighbour. It must have been quite an experience for her, to be surrounded by jovial, noisy grey haired knitters who had moved out from the city, settled into quiet hill living and seemed to be enjoying it all. It was a change from the strict Army protocol which can unnerve many a young bride.
N was handed a pair of knitting needles and some yarn, and taught the simple garter stitch. One of the knitters had got a loom, to teach knitting to her daughter, and N was given a lesson in that too. She was keen to participate and learn, but what happened in the following months, was a complete eye-opener to all of us.
Every month, N would churn out a couple of hats ( neatly done and finished), a cowl or two and something new would be on her new knitting needles. She had quietly invested in a set of circular knitting needles , checked out online and local resources for wool, and become good friends with her laptop.
While her husband worked through the days and studied the evenings away, N had found her niche. With a good Internet connection at home, she was on a steep learning curve. Anything which confused her, would be shared on the Knitters Group and checked online on Ravelry, or Youtube tutorials would be viewed. With blogs, knitting groups on Ravelry and other sites, N took up more and more projects and aced them all.
Cowls and hats for everyone in the family, sweater for better half, mittens, some more cowls…and there are new patterns, new techniques in each one of them. These days, she enjoys her knitting time, has found her own space of happiness, and has, in the process, discovered some new talents within herself.
Watching her bloom into a praiseworthy knitter, has made me realise what an amazing time we all live in, and what a treasure trove of information, support and help is available for anyone who wants to learn a new skill, a new craft, a foreign language, whatever! The ocean of resources which is available to us at the click of a mouse, or a swipe of the screen is phenomenal.
Knitting, for example, has millions of YouTube instruction videos, excellent teaching websites ( Craftsy, verypink.com) as well as the dual paradise of Revelry and Pinterest for inspiration, patterns, support and plain fun. Add to that some excellent blogs and podcasts, and then, who needs knitting books?…Umm, I do! Knitting books give me a level of joy and happiness which gold or diamond jewellery can only dream about! Besides, for teaching the knitters and for designing new knitwear, its the shelf of resource books which spur me on!
Knitters can find groups of men-who-knit, cable-crazy knitters, ambitious afghan accumulators, simple sweater seamers, or gorgeous garter groups. There is someone like you, out in the big wide world, knitting something you are planning to knit, ripping out a project which is on your needles, or trying hard to master a technique which has got you gnashing your teeth. You are not alone.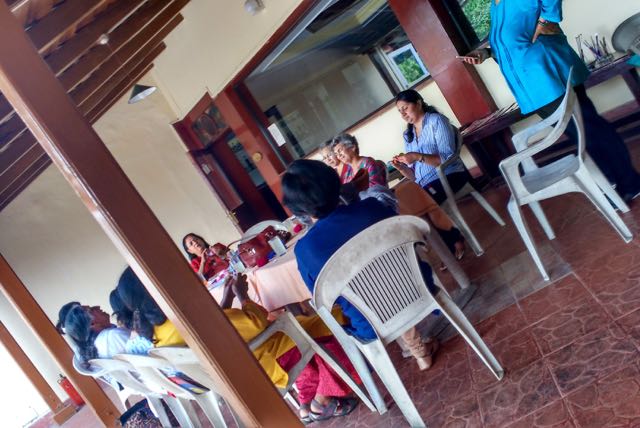 These are good times, these are great times! If you can read this blog post, you can click on another website which teaches you the craft which you may want to learn. The craft will give you satisfaction, a chance to slow down and enjoy the rhythm of making something…and the Internet will give you instructions and support, and a chance to share your success and flop-shows with the world.