Medical college and late teens–great combination for perfecting the art of making and believing in wild proclamations. "No Gynae and Obs specialising for me. Imagine working with and for women, all the time. Imagine emotional outbursts and tears, at the drop of a hat. No sir, no women-stuffed-workplace for me".
Fast forward three decades..I have moved to the other end of the swinging pendulum. Its women all around me, all the time. Hema keeps home going, Peppu and Mili ( both girls) keep me company, the 12 Knitters pep up my brain and heart and then, the GenNext women of the hills keep me enthralled.
They are the women who have their roots in the hills, but who have moved into the cities and cyberspace to make their mark. Educated in some of the good schools which dot the hills, supported by family and friends, independent and strong enough to live life on their terms, I see them as daughters, nieces and daughters-in-law of proud Pahaadi women.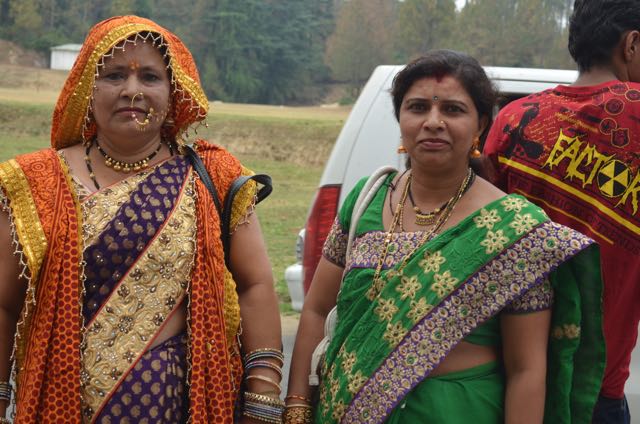 Smart and articulate, they continue to wear the traditional "Pichoda" and jewellery when needed, participate in festivals and prepare "Ghooghoote" and "Harela" with enthusiasm.
Pursuing careers ranging from art curators, wedding planners, bloggers, civil service officers, managers and medicos, I love watching the way these young women slip into their family rituals and then slide back into laptops and cars. Invariably, standing quietly in the background, I find proud parents whose traditional attire covers their modern approach to bringing up their daughters.
I watch school girls striding back in groups, discussing future plans, new mobile games and what jobs to aim for. Boys continue to zoom around on shiny bikes, continue to comment and yell out at the girls, continue to believe that they are God's gift to their parents. But these school girls–they refuse to get married early, insist on studying after school, bravely leave the village and stay with vague relatives while completing a course, and moving on without a backward glance.
These changes are not without tension and heartache. Fathers look bewildered, some mothers are afraid of social isolation, but the girls just keep on trying to move ahead.
I watch these new dynamics with interest… Mothers share their unfulfilled dreams with their daughters, and for some youngsters, that is fuel enough to rocket them out of the hills.
I watch girls torn between traditions and desires, the need to be their own person instead of being a wife/mother/daughter…Parents confused about when to let go and when to tie them down.
And then, I watch these women who have moved into their lives, while keeping family ties intact, inspite of some strain and stress, and I salute them.
I have soul sisters in the hills.