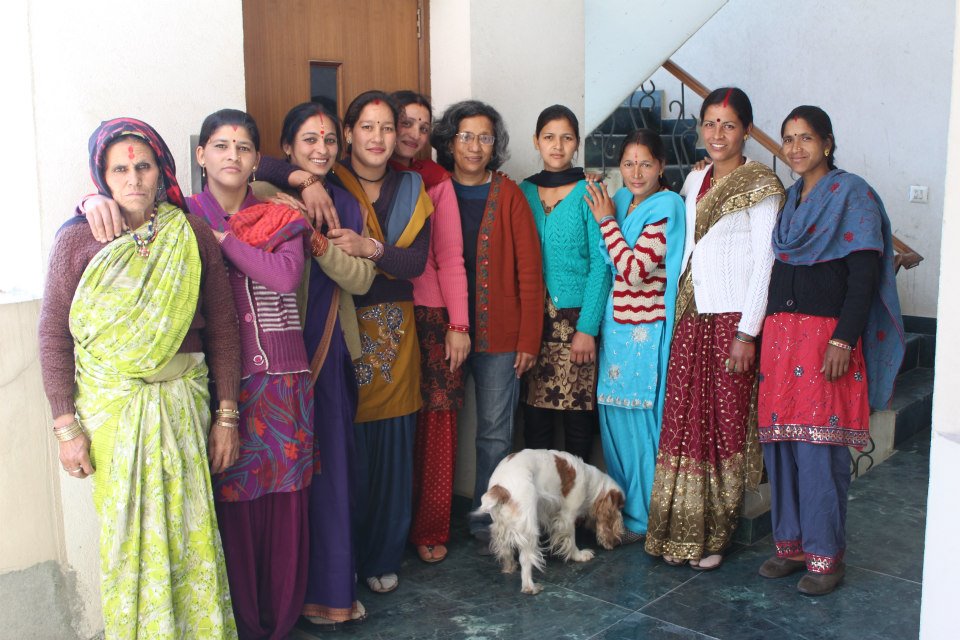 From being a chronicle of a single life, "NeedlesToSayMore" has been evolving into a saga of knitting together, living a simple life, connecting to Nature, and empowering this group of intrepid knitters who are working hard to make a dream come true.
Starting with a dream to produce high quality hand knitted garments for everyday use, NeedlesToSayMore  is the project which emerged after I chose to give up medicine and work with a small team of women knitters in Ranikhet. The objective was all about empowering them through the creation of the beautiful pieces (which are available for sale in the website), and to foster the art of knitting by hand. Working on this dream project takes up a large part of my time and my heart.
Another large part of my heart is devoted to dogs and to reforestation.
Dogs complete me, and when they leave, they take a little bit of my heart with them. Every dog continues to teach me to accept the rules of Life, to live in the moment, to be fiercely independent and totally loyal. No blog can be maintained without some doggy stories.
The forests are being denuded at an alarming rate, with buildings sprouting on every slope, forest fires burning up the hillsides and the changing weather due to global warming. Planting a few saplings, nurturing them for a few years, and protecting them from fires, goats and wood-cutters is another vital part of my day.
I invite you to browse through our gallery of hand knitted items..
Many hours have been spent in training the women to focus on technique and perfection, helping them to develop a sense of pride in their work. Entire projects have been unravelled, if a single error has gone undetected, focusing on 100% quality, and helping them understand that finding mistakes and correcting them, is infinitely better than faking perfection.Our skilled team of women knitters have learnt professional knitting techniques, can read complicated pattern graphs, and are fully focused on quality.
Each item takes several hours, sometimes even days, to ensure you get the highest quality of hand-knitted products that can be treasured for years to come.
Every piece has been hand-knit with care, checked repeatedly for accuracy and neatness, and finished by a special blocking method which brings out the best in hand-knits.
Every piece which you buy, gives a boost to the dying art of perfect hand-knitting.
Every parcel which goes out to the world, contains the energy and enthusiasm of a knitter who has put quality before quantity.
I hope you enjoy your time with our world of living in tune with Nature, knitting perfectly and taking pleasure in each day.