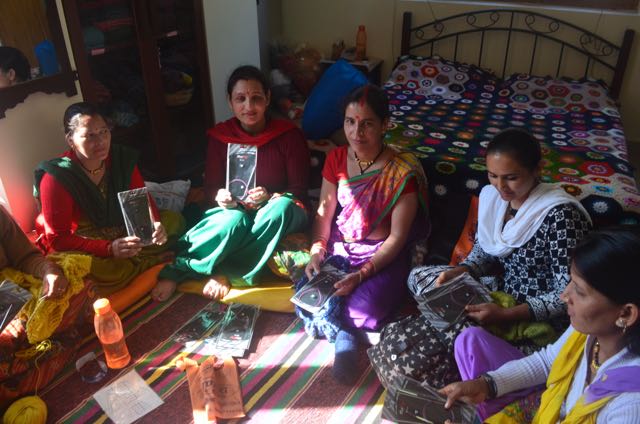 One fine day in March, 5 years ago, a hesitant group of 7 knitters happened.
Three from Ranikhet town, two from Naini Estate, one from distant Govindpur, and one from Dadgaliya village.
They were not friends or acquaintances…they had nothing common between them, except that they knew how to knit… and they wore cardigans in every season.
As the weeks and months passed, the knitters bonded over tea and snack breaks, lace charts and symbols, circular knitting needles and proper darning, swatches and samples, and finally, the hardest  experience–unravelling an entire garment for an error in pattern, size or anything else in between. We share stories of trembling times while they tried to hold the yarn my way ( it didn't happen), of hilarious times when they taught me how to flee from an excited bear ( I should run downhill–the forehead fur blurs the vision of that beast), when I tried to get the Hindi numerical/grammar/knitting terms right ( try converting English patterns into Hindi) and those empowering times when we would share stories of childhood, trouble, family pressures, money and madness.
Sometime early, in these 60 odd months, my passion for quality work seeped into every knitter. Every Wednesday, they would critique each other's knitting and encourage each other to rip back to correct mistakes. By the time I would check the knitting, there was hardly any remark forthcoming, except " wow! this looks good!"
We are a family now…I look forward to Wednesday mornings when the house is full of chatter, laughter, knitting, energy and affection. The number of knitters has doubled now….Every knitter took a novice under her wing, taught her the methods, the philosophy, the systems and the jokes.
There is a collective saving system, there are knitting needle sets, there are Diwali and Holi fun, there are trips to temples and the town, there are stories of educating kids/handling negative family vibes/buying jewellery or furniture/getting smartphones for sharing patterns on Whatsapp..and so much more.
Each knitter is a story..and I will be sharing their stories with you in this section.
Some of them will make you smile…others will make you feel humbled…but you will feel that underlying layer of gratitude and gusto which they bring into each day, and which I have learnt from them.