Monsoon clouds being pushed away by September sunshine. Festivals and fun preceding the frosty arrival of winter. Little Mili revelling in her new found adult attractiveness ( and giving me some old fashioned heart attacks)…yes, the cycle of changing seasons is happening with its precise timings and reassuring events.
With every cycle of the seasons, I find some parts moving into my memory spaces. Parts which seemed as eternal as the play between clouds and sunshine. Parts which were full of happy dogs trotting beside me while I would do the morning milk collection walk…happy dogs panting and chasing shadows and birds and butterflies on the return lap through the forest…happy dogs sitting beside me on a moss covered culvert and watching the traffic pass by.
Those happy dogs have been moving on to happy meadows in heaven. Last year, I said farewell to Biskit and Luchi. I also had to accept the fact that Choti, Meow-meow, Mystery and Hansmukh became meals for the hungry Big Cat which roams the shrinking forest. Every time a dog leaves me, it becomes a time for acceptance and gratitude and reaching within myself for solace and comfort. Some leave suddenly, in the black silence of the night. Others have suffered and sickened and scarred me with their departure.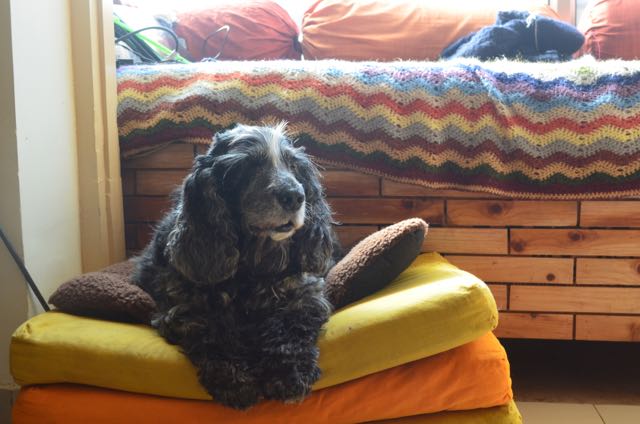 Right now, while I sit beside Pepper and write to you all, its that time, yet again, to bid farewell to yet another beloved soul. Ten years of waking up with a delightfully eccentric dog has made laughter and madness an essential part of the day. Watching her play, daily, through "the mirror game/the stone game/the light catching game/the balloon game/the growl-at-mommy game/the water catching game/ million other games" was like learning, daily, the method of living in the Now.
For the past 11 days, Pepper has not eaten a morsel. She refuses to drink anything other than clear water. With every passing day, her energy levels have come down, but her resolute will remains the same—"no food" means no food. She remains calm and dignified in repose, sleeping on her favourite spot on the couch. She dreams of running free ( twitching paws), of eating lavish meals ( twitching jaws), of being gloriously free and joyous ( twitching tail).
I arrange my day around her sleeping form. Knitting, eating meals, reading the newspaper and blogs, even playing with Mili—its all around her. We try and make her sip some chicken broth, which tests her patience and devotion after 5 sips. Evenings are for watching old movie re-runs with a blanket covering us all.
Its not a bad way of living. Its all about being present in the present hour and not worrying about the future, for her and for us. Its about spending quiet times with my visiting daughter and some concerned friends.
Finally, its about marvelling at the way the world unfolds.
A knitting bag which I had been dreaming about, comes home as a present. And the words couldn't be more apt for this period..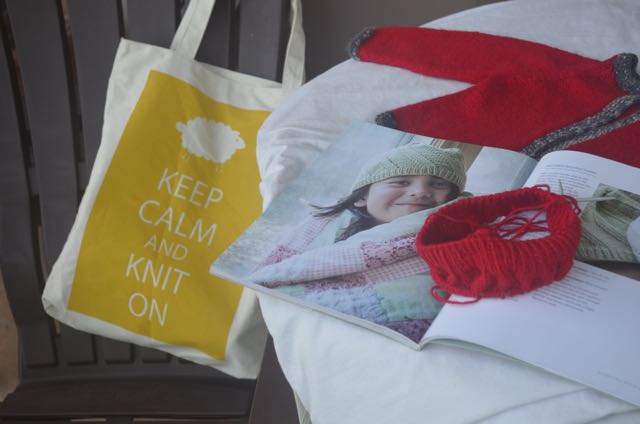 Stay Calm and Knit On