Community….All the people who live in a particular area, country, etc, when talked about as a group.
Community….The feeling of sharing things and belonging to a group in the place where you live.
Diverse as we may all be, taking the plunge to settle down in Ranikhet by choice or by circumstances, driven by yearnings or retirement plans, there is this strong sense of community which binds us, supports us and keeps us sane in our solitude.
Friends of friends drove up last week from Delhi. The smog, the stress and the speed of city life had pushed them to the hills. Adult children settled in their routines, retirement dates on the horizon, travel and relaxation plans emerging, and thanks to good fiscal planning and saving- financial worries receding. With no concrete plans in mind, they wanted to meet people who live in Ranikhet around the year..our community, actually. And who did they meet?!
Ardent trekking couple, who maintain a garden home and a great stock of books, music and wry jokes, with online expertise and mathematical ideas thrown in?
Amiable Nature lover, who lives in an oak filled estate, collects traditional seeds and knowledge about farming millets, runs courses on yoga, tai-chi and meditation and is the best host possible for local musicians to sing an evening away?
Residents of a sun filled mansion, full of flowers and succulent plants, who have given up the Delhi life to put down roots in this tiny hamlet, become friends and supporters of everyone here, travel out frequently to meet their sons and families, and come zipping back to Ranikhet with a happy smile?
Retired bank officials and IAS officers, with large hearts and lots of friends, who soak in the sunshine and read books, call on each other and have little lunch gatherings, joke and laugh about days gone past and the vagaries of life here?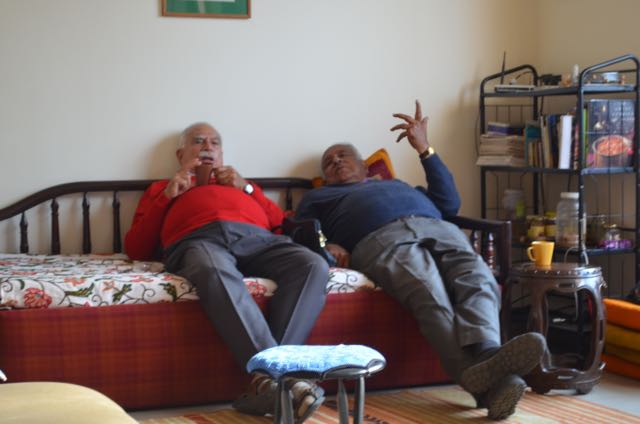 Others, like me, who set out with the aim of leaving the city madness, found their little niche of happiness, found a life which is not hectic but happy and fulfilling, found that one can complete a day without any discernible work and still fall asleep with tired bones?
Different people all…with different ideas of living and loving, bound together with common threads of a quiet life, solitude, simple living and good food! To know that there are friends and community all around me, doing their thing and living their dream, yet ready to respond to a single distress call, is such a wonderful feeling.
And wrapping this feeling around me, I sail out today, to spend a sunny afternoon with the Knitters of Ranikhet!